2022 Mazda CX-5 vs. 2022 Hyundai Tucson
If you are shopping for a compact SUV, you have more options than ever before! Find out more about all-new models like the 2022 Mazda CX-5 and 2022 Hyundai Tucson to see which one is the perfect fit for your needs! They are two of the top compact SUV options in this year's class and are similarly equipped. The CX-5 has a 6-Cylinder 3.0 Liter, while the Tucson comes equipped with a 4-Cylinder 2.5 Liter. Learn more as we compare the cool features and tech they have to offer drivers.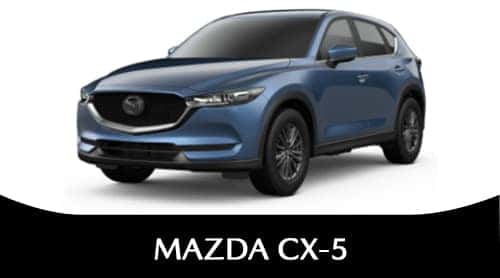 Compare the Features and Technology of the Mazda CX-5 vs. Hyundai Tucson
When looking at which compact SUV has top-of-the-line features, the 2022 CX-5 is a terrific choice. Some of the most exciting and innovative features are found in the CX-5, like the Infotainment system with voice command and Mazda Connect. Available features in the Tucson include LED headlights and HD Radio, making it an appealing choice as well. In addition to the great features, the Mazda CX-5 comes with advanced technology found in the MyMazda App, providing more innovation than the Tucson does with its 8-inch color touchscreen.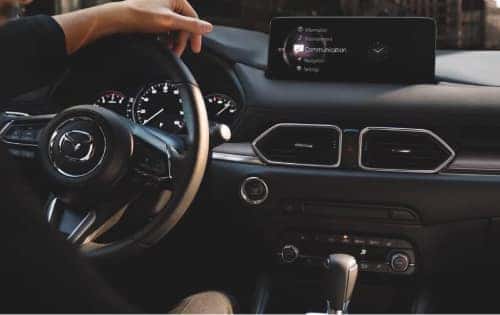 ---
Compare the Fuel Efficiency and Safety of the Mazda CX-5 vs. Hyundai Tucson
In more ways than one, the Mazda CX-5 totally stands out in a crowded compact SUV class, being that it is more fuel efficient and has enhanced safety measures. While the Tucson is a top performer when it comes to MPG, getting 26 city / 33 highway, the CX-5 gets drivers a similar distance with a MPG of 25 city / 31 highway. Along with its excellent fuel economy, the CX-5 comes with great safety features in its i-ACTIVESENSE technology, putting at the top of the compact SUV safety rankings, beating out the Tucson and its Drive assistance technology.