2023 Mazda3 Hatchback vs. 2023 Honda Civic Hatchback
In the world of hatchbacks, you have countless options. The 2023 Mazda3 Hatchback and 2023 Honda Civic Hatchback are both good choices. Let's take a look at the features of both to see how they compare.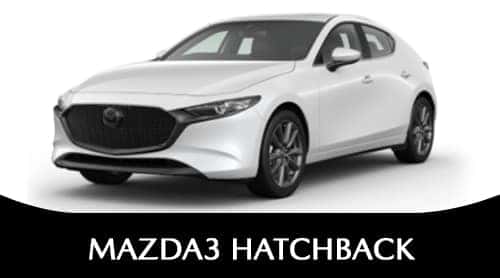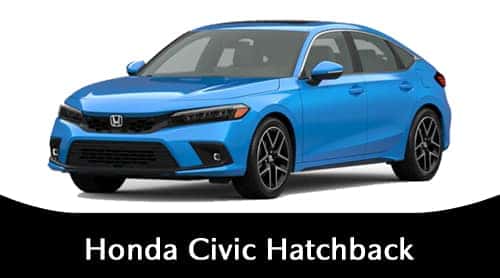 Trim Options
The Mazda3 comes in seven available trims, ranging from the base-level 2.5 S to the top-of-the-line 2.5 Turbo Premium Plus. The Civic comes in three trim levels, from the affordable Sport to the well-equipped Sport Touring model. We'll find most of what these vehicles have to offer without too many upgrades, so let's examine the standard features of the 2023 Mazda3 Hatchback 2.5 S Preferred vs. the 2023 Honda Civic Hatchback Sport.
---
Performance and Fuel Efficiency
The Mazda3 has a peppy SKYACTIV®-G 2.5 DOHC 4-cylinder engine, delivering 186 lb-ft torque @ 4,000 rpm and 191 hp @ 6,000 rpm. Front-wheel drive and SKYACTIV®-Drive 6-speed automatic transmission with manual and sport modes make for a great driving experience. With an estimated fuel economy of 26 MPG city / 36 MPG highway, the Mazda3 provides exceptional performance with nimble handling and good fuel efficiency.
The Civic boasts an in-line 4-cylinder engine under the hood for 138 lb-ft torque @ 4,200 rpm and 158 hp @ 6,500 rpm. For the drivetrain, we have front-wheel drive and continuously variable transmission (CVT) with 6-speed manual mode. With an estimated 26 MPG city / 36 MPG highway, the Civic is a sensible choice in terms of fuel efficiency.
On the whole, both the Mazda3 and the Civic are very good performers in most settings.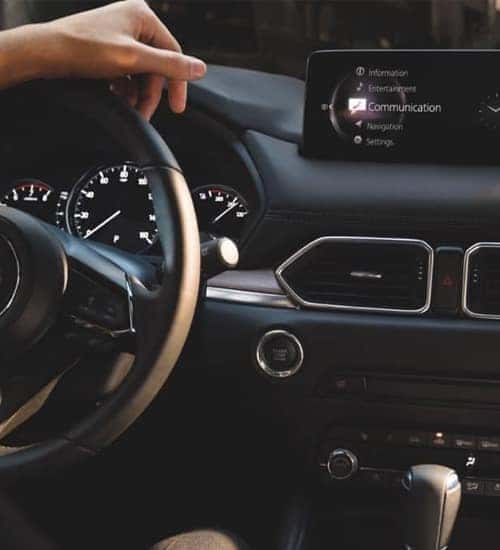 ---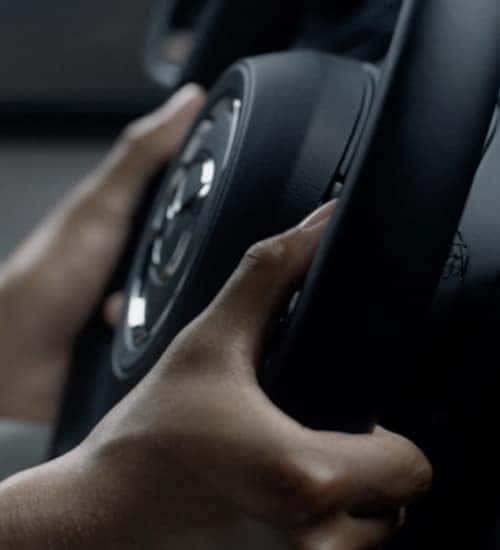 Driver Assist and Safety Features
The Mazda3 Hatchback is equipped with an impressive suite of safety features. Standard driver-assistance features include radar cruise control with stop & go, blind spot monitoring with rear cross traffic alert, lane-keep assist, and smart brake support.
The Honda Civic Hatchback also doesn't kid around when it comes to safety. The Civic comes with a driver assist package that includes collision mitigation braking system, road departure mitigation system, adaptive cruise control, and lane keeping assist.
---
Interior and Infotainment
Mazdas are highly regarded for their sophisticated interiors, and the Mazda3 is no exception. Step inside to discover a comfortable interior with an 8-way power-adjustable driver's seat, dual-zone automatic climate control and enough room to seat five. The Mazda Connect™ infotainment system features 8-speaker audio, HD radio, voice command, Apple CarPlay™ and Android Auto™ integrations, Pandora® internet radio integration, and all the conveniences you've come to expect from a well-equipped vehicle.
There is also plenty to like about the Civic's interior. With 24.5 cubic feet of cargo space and seating for five, space shouldn't be an issue. 8-speaker audio, Apple CarPlay™ and Android Auto™ compatibility, and more comprise a sufficient infotainment setup.
Conclusion
The 2023 Mazda3 Hatchback exhibits a level of refinement and performance beyond what its price tag suggests. The 2023 Honda Civic Hatchback is also a solid pick. You can't go wrong with either, but in our opinion, the Mazda3 Hatchback takes the win.